Sauna door
You can choose the Liune Heat (D11) sauna door with a wooden or glass door.The wooden door is untreated, so you can tint it as you like.The color options for glass doors are clear, opal, and dark smoke.
Sauna door with Liune concept brings all the extra space to the washroom.The space savings are significant and the washrooms are given a new dimension of space utilization.
Wooden door:
The door thickness is 38mm.The door of the sauna is a core-board, which is a light and rigid material.
Wood door surface treatment: The door is an untreated wood that you can tint to your liking.
Glassdoor: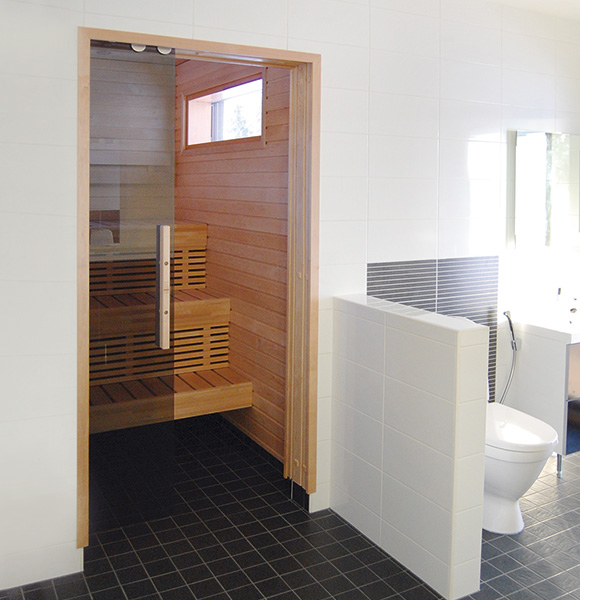 8 mm thick tempered safety glass in accordance with RakMK F2 2001 regulations.
Colors: Clear, opal, dark smoke gray.The standard frame is heat-treated aspen, which is made accordingly for the sauna it is being ordered for also with wooden studs (pine). The doorbrackets are silver.
The handle is the Liune vertical tug, which is sold with a sauna door.The handle material is untreated aspen.The handle is protruding at the door, which takes about 8 cm from the free passage.
Measuring the installation opening
Measure the door opening width and height to get the correct size. Just in case, it is good to take measurements at multiple locations, and multiplying the width by two gives you approximately the opening required for the element too in the wall frame.More details on the installation opening for the Liune element is in the door leaflet.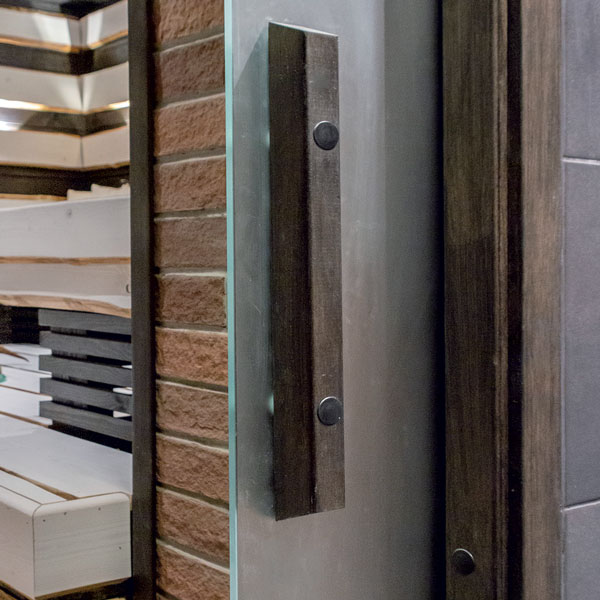 How do I choose the right size sauna door?
Door and frame dimensions are expressed as a module dimension with one module (LiO10) 100 mm.The rough rule is that the door width multiplied by 2 is the required space for the element in the wall frame.When installing the element, leave a space of about 10-20 mm on each side.At the top of the element, leave a margin of about 40 mm.The lower edge of the element is mounted on the level of the finished floor surface;see the installation instructions for more information.Thus, for example, the size of the LiO9 element is 1935x2130, whereby the door has a free passage opening of 810 mm and a height of about 2040 mm.There is a space of about 100 mm between the floor and the door.
Cleaning of the sauna glass door
Remove dirt and stains with a standard sanitary cleaner or dishwashing detergent using plenty of water.After rinsing, the door should be thoroughly dried with a spatula to avoid lime stains.
Lime stains occur when the tap water withlime dries, leaving white stains on the glass.Potential lime groves can be removed, for example, with dilute acetic acid solution (diluted vinegar).A window cloth is used for rubbing.Rinse the glass with plenty of water and dry thoroughly with a spatula.
Liune door and element installation in bathroom or sauna