Liune passar både till badrummet och bastun
Ansvarsfullt byggande och byggdelarnas säkerhet lyfts upp särskilt i våta utrymmen. För att byggnadsdelarna ska förbli torra och i bra skick, är det viktigt att välja kvalitetsprodukter som är tillverkade för det ändamålet. Därför har vi designat och tillverkat Liune-produkter som är specifikt anpassade till våta utrymmen, och som man tryggt kan använda både ihemvårdsrummet och badrummet.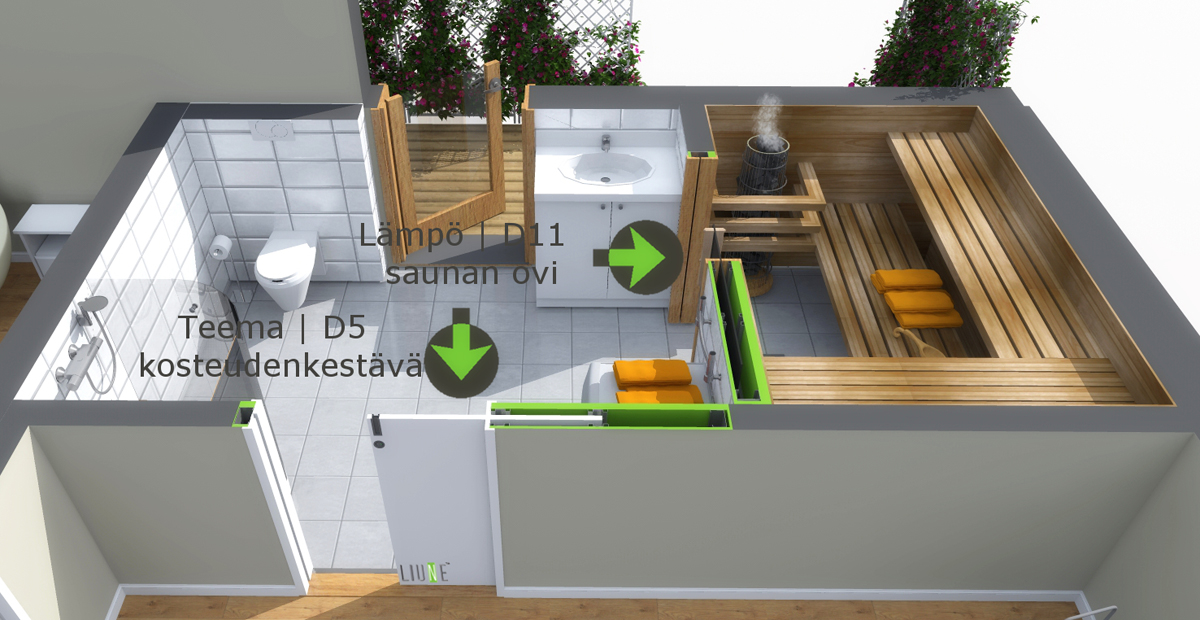 Fuktspärr och Liune element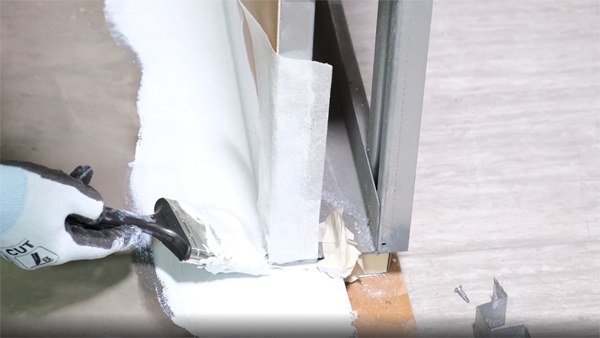 Liunes lösningar till våtrum anpassar sig utmärkt till professionella fuktspärrningsmetoder. Tätskiktet ska utföras med fiberremsor i hörn, kanter och fogar. Tätskitets värde för genomträngning av vattenånga ska vara under 90 x 10¯¹² kg/m²sPa.
Som stommaterial kan man använda både stål och trä, men då trä är känsligare för fukt, rekommenderar vi en stålstomme. Stomdjupet ska vara minst 95 mm.
Liunes dörrelement för våtutrymmen har fixa ränndalar, som är enkla att fuktspärra. Hänsyn har tagits till rördragningar i elementet och det går att hänga upp skåp och väggmöbler på elementet när man använder särskilda skåpstöd.
PRODUCTS FOR WET ROOMS
Liune has developed several door assemblies suitable for wet areas.The themeddoorassemblyis a massive MDF door and the frames are treated with moisture-resistant paint.They are resistant to wear and moisture, which can be found in toilets or utility rooms, for example.The standard color tone is white.The themed door does not whitstand splashes of water.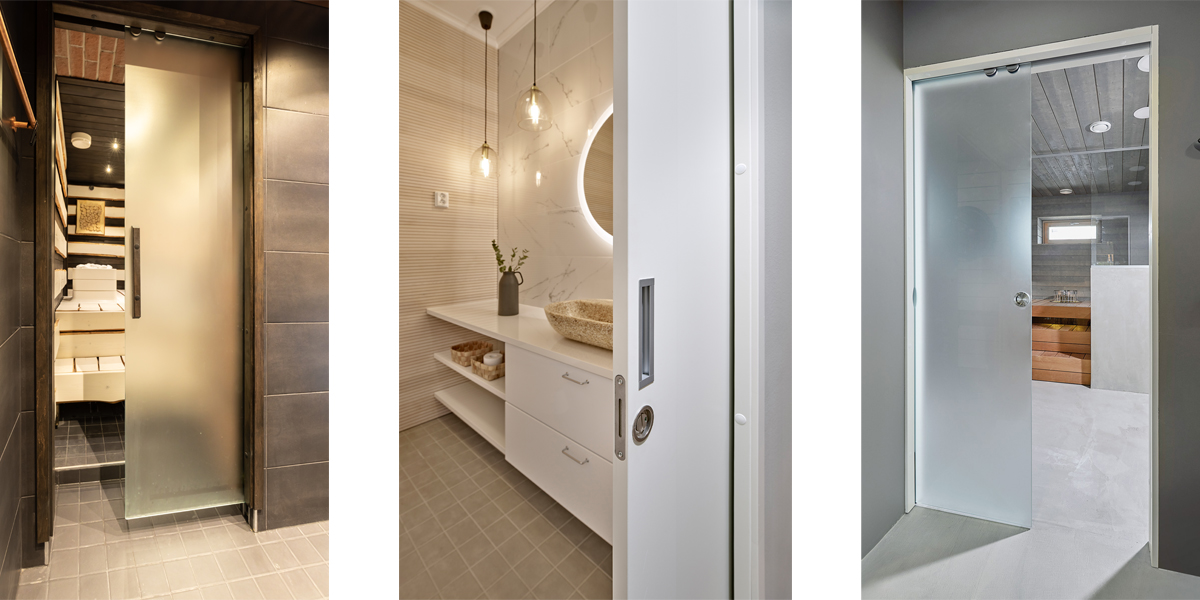 The warmsauna door system completely frees the sauna and bathroom for your use and there is no need to think about the problems of a revolving door.The thermal door can be selected in glass and in three different shades;bright, opal or dark smoke and or in wood.The frame strips included in the warm door solution are always made to fit according to the tiled frame thickness stated in the order.
The glass door solutionis also suitable for rooms where there is a risk of splashes.In this case, it is worth informing us when ordering that the product is entering a damp room, in which case we will equip the glass door element with a gutter.The glass door is tempered, 8mm thick safety glass, when you select the recessed pull, the glass door slides completely inside the wall when the door is open.There are three shade options to choose from: light, opal and dark gray.
Wet room elements
Liune element is part of the finished partition frame and is delivered to the site assembled in one or two parts.The damp space elementhas a chute in the lower profile of the element that protects and directs the flow of any condensed moisture away.Waterproofing is always done in accordance with a waterproofing system certified by VTT (Finnish water insulation sertificate).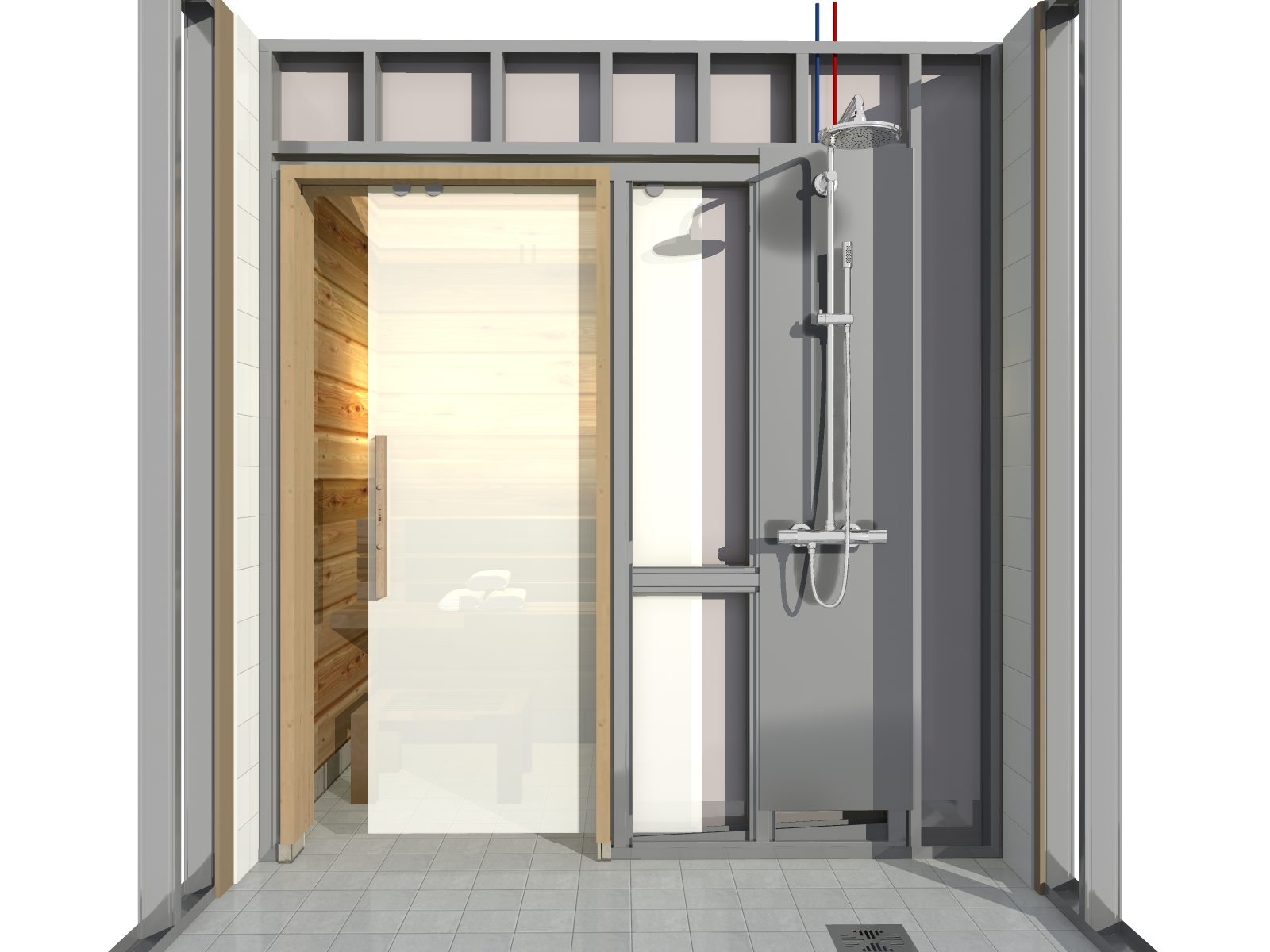 The element is made of strong steel sheet: material S350GD + Z.The element is a partition wall structure assembled by welding at the factory and is made of CE-marked steel profiles.All elements have slots for electric boxes as standard.The locations of the electrical boxes in the element are next to the door.When the door is 40mm in a 95mm frame, only surface boxes are possible, in a 120mm frame low electrical boxes are possible.The Liune wet room element can also accommodate pipe pulls when it comes to a 120mm frame.The most common wet room element is a 95mm frame depth.
Wet room frames
The style of the room can also be influenced by frames.Moisture-treated framesare prefabricated, frame-plugged are designed for spaces that may be exposed to moisture, but they are not resistant to splashing water.Fully splash-proofLiunen Design framesare smooth and have noframe plugs.Thus bringing a uniform and smooth surface to the door jambs.To finalize the saunas doorway we recommend the beautifulwooden frame-plugs withsauna wooden frames.
Wet room door leaves
TheTheme door leafmade of solid mdf material, designed for damp rooms,painted with moisture-resistant paint.The standard color tone of the door is white, but all shades of the color chart are also possible for a moisture-resistant door.

For spaces exposed to direct splashes of water, you should choose ourTime glass doors,which offer light or vision protection.There are three shade options for the 8mm thick glass door;bright, opal and dark gray.
The sauna is a beloved place for Finns, but still unfortunately often cramped.Heat sauna doorslides inside the wall, bringing space without compromising the atmosphere.Safety has also been taken into account here, e.g.with a ventilation space at the bottom of the door.Stunning shades for glass doors include light, opal and dark gray, as well as elegant wood.
Things to remember during installation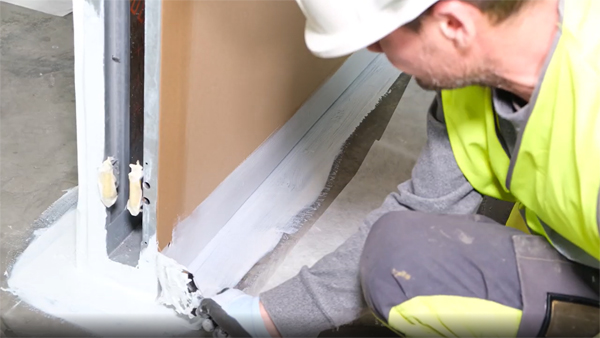 The installation of the Liune element in a damp room is successful if you follow the instructions carefully.Well-done waterproofing is key in the bathrooms, as are adequate spills per floor drain.When using leveling compounds, it is always advisable to follow the manufacturers instructions regarding both water quantities and additives.Waterproofing is done on leveled surfaces and once they have dried, the surface materials can be installed and any seams and seals made.
It is good to remember that in under the floor heating projects it is not advisable to drill holes in the floor, but to use adhesive compounds for the premises during installations.All holes required for installation are filled with silicone before drilling in the screws.Both the walls and the floor must be waterproofed in accordance with regulations.In addition, it is important to secure the joints and corners of the walls as well as the joints of different materials with a joint tape.
Damp room Liune-doors technical information can be read more fromproduct instructions.For more information on Liune and its element installation in wet rooms, see page 28 onwards.
Installation video - this is how you install Liune in a damp room